Date
Wednesday, December 18, 2019
9:00-20:00(Registration starts at 8:30)
Venue
Keidanren Hall
1-3-2 Otemachi Chiyoda-ku, Tokyo 100-0004
Tel: 03-6741-0222
» map
Capacity
300
Registration Fee
(Excluding Tax)

Early Bird Price
(October 1〜November 15, 2019)
Regular Price
Members of JACFO
10,000 yen
(※)Special Discount

5,000

yen
15,000 yen
(※)Special Discount

10,000

yen
Non-members
15,000 yen
(※)Special Discount

10,000

yen
20,000 yen
(※)Special Discount

15,000

yen

(※)Special Discount
If you agree with providing your personal registration information to sponsors, you can get additional ¥5,000 special discount.
Input the Campaign Code when you register from WEB site.


Campaign Code for ¥5,000 special discount

CFMASAMIRI2019
*Including CFO Luncheon & Reception
Target Audience
(Industrial Corporation) Senior Management, CFO, Finance Officer, Controller, Finance Manager
(Financial Organization) Senior Management, Corporate Officer, Corporate Sales Manager

» Please visit our website for details.

These provide an opportunity for sponsors to introduce and present the latest trends as well as cutting-edge techniques and technologies in the area of corporate financial management, which are useful to CFOs and other senior financial executives in the age of globalization.
■ The Sponsor-led Breakout Sessions can be provided by Lead and Platinum Sponsors only.
The primary purpose of the Sponsor-led Breakout Sessions is to provide information that is useful to the forum attendees.
Past survey results reveal that sessions with a focus on advertising your products and services often have an adverse effect, so it is advisable to refrain from content of that nature.
The time frame and conference room of each session will be decided by the conference administrators with consideration given to your individual requests. Please understand that there may be some cases where the conference administrator cannot fulfill your request.
We are seeking a wide range of topics for the Sponsor-led Breakout Sessions. Although the choice of session topics is in
principle at your discretion, please understand that the conference administrator may ask for some adjustment to the topic or contents.
We also welcome you to invite your client and give a case-study type of presentation. Or if a company that is not your client requests an invitation to host a session with CFOs and other senior financial executives, please feel free to inquire with the conference administrator.
■ To register for the Sponsor-led Breakout Sessions, those who have registered to attend the conference will subsequently choose on the conference website which sessions to attend.
■ The maximum numbers of seats available for each session are 140.
■ Please consult with the conference administrator if simultaneous interpretation service is needed. Please bear in mind that in some cases the maximum number of seats available may decrease depending on the conference room layout.
■ The conference room is set up in classroom style.
■ A post-session questionnaire will be prepared and distributed by the conference administrator, and you can submit to the conference administrator up to 4 questions you would like to ask. (Due to time constraints, we ask you to refrain from conducting a post-session survey on your own.)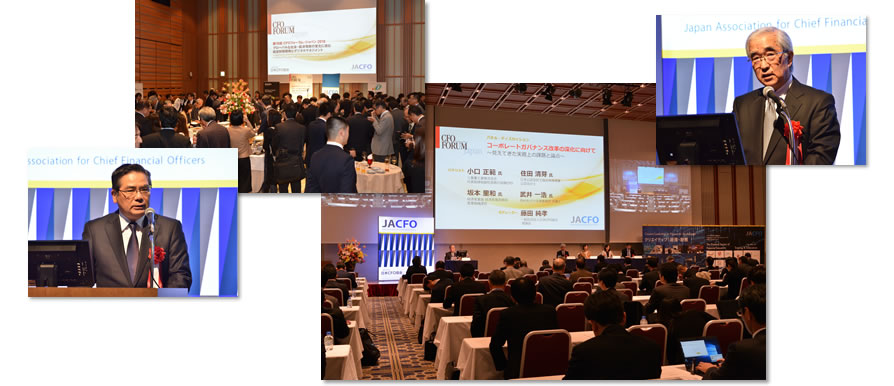 The 19th CFO Forum Japan 2019 offers a variety of sponsorship benefits as described below.
Sponsorship Benefits and Prices
● Lists of both registered and actually attended delegates of the conference as well as all the post-session
questionnaire results (Release of personal details and questionnaire results will be subject to registrants' consent.)
● Right to hold one 50-minute Sponsor-led Breakout Session
● Sponsor logo and hyperlink on conference website
● Opportunity to distribute sponsor's own promotional brochures to each delegate, and sponsor logo on conference promotional brochure
● Five (5) complementary conference registrations
● Display booth at the lobby of the conference venue
*Sponsor is able to download the up-to-date list of registered deledates from the website link.
*Please note that Sponsor-led Session will be recorded and posted on our member web site.
*Although the choice of session topics is in principle at your discretion, please understand that the conference administrator may ask for some adjustment to the topic or contents. The primary purpose of the Sponsor-led Breakout Sessions is to provide information that is useful to the forum attendees. Past survey results reveal that sessions with a focus on advertising your products and services often have an adverse effect, so it is advisable to refrain from content of that nature.


Price: 3,000,000 yen (plus tax)

● Lists of both registered and actually attended delegates of that Sponsor-led Breakout Session as well as the post-session questionnaire results (Release of personal details and questionnaire results will be subject to registrants' consent.)
● Right to hold one 40-minute Sponsor-led Breakout Session
● Sponsor logo and hyperlink on conference website
● Opportunity to distribute sponsor's own promotional brochures to attendees of that session, and sponsor logo on conference promotional brochure
●Three (3) complementary conference registrations
● Display booth at the lobby of the conference venue
*Sponsor is able to download the up-to-date list of registered deledates from the website link.
*Please note that Sponsor-led Session will be recorded and posted on our member web site.
*Although the choice of session topics is in principle at your discretion, please understand that the conference administrator may ask for some adjustment to the topic or contents. The primary purpose of the Sponsor-led Breakout Sessions is to provide information that is useful to the forum attendees. Past survey results reveal that sessions with a focus on advertising your products and services often have an adverse effect, so it is advisable to refrain from content of that nature.


Price: 2,000,000 yen (plus tax)

<Option>
(1)The lists of all registrants of the conferenceWe will provide you with a list of applicants for the entire forum (with attendance) (with consent).


Fee: 750,000 yen (plus tax)

● Lists of both registered and actually attended delegates of that Sponsor-led Breakout Session as well as the post-session questionnaire results (Release of personal details and questionnaire results will be subject to registrants' consent.)
● Right to hold one 40-minute Sponsor-led Breakout Session
● Sponsor logo and hyperlink on conference website
● Opportunity to distribute sponsor's own promotional brochures to attendees of that session, and sponsor logo on conference promotional brochure
●Three (3) complementary conference registrations
● Display booth at the lobby of the conference venue
*Sponsor is able to download the up-to-date list of registered deledates from the website link.
*Please note that Sponsor-led Session will be recorded and posted on our member web site.
*Although the choice of session topics is in principle at your discretion, please understand that the conference administrator may ask for some adjustment to the topic or contents. The primary purpose of the Sponsor-led Breakout Sessions is to provide information that is useful to the forum attendees. Past survey results reveal that sessions with a focus on advertising your products and services often have an adverse effect, so it is advisable to refrain from content of that nature.


Price: 1,500,000 yen (plus tax)

<Option>
(1)The lists of all registrants of the conference We will provide you with a list of applicants for the entire forum (with attendance) (with consent).


Fee: 750,000 yen (plus tax)

● Sponsor logo and hyperlink on conference website
● Display booth at the lobby of the conference venue


Price: 300,000 yen (plus tax)

<Option>
(1)The lists of all registrants of the conference We will provide you with a list of applicants for the entire forum (with attendance) (with consent).


Fee: 750,000 yen (plus tax)

● Lists of both registered and actually attended delegates of the conference as well as all the post-session
● Opportunity to deliver a speech or hold a 20-minutes sponsor-led session at the CFO Luncheon.


●

Sponsor logo and hyperlink on conference website


●

Opportunity to distribute sponsor's own promotional brochures and novelties to each delegate, and sponsor logo on conference promotional brochure
● Display booth at the lobby of the conference venue


Price: 5,000,000 yen (plus tax)

● Lists of both registered and actually attended delegates of the conference
● A representative from the sponsor is given an opportunity to deliver a speech at the beginning of the networking reception.


●

Sponsor logo and hyperlink on conference website


●

Opportunity to distribute sponsor's own promotional brochures and novelties to each delegate, and sponsor logo on conference promotional brochure
● Display booth at the lobby of the conference venue


Price: 3,000,000 yen (plus tax)

Optional Sponsorship

<Options>

(2)Conference bag sponsorship (limited to one sponsor only)

A conference bag with the sponsor's logo will be distributed, along with the sponsor's promotional brochure, to all conference attendees.

Fee: 600,000 yen (plus tax)

(3)Neck strap sponsorship (limited to one sponsor only)

Sponsor logo will be printed on the neck strap of the conference ID holders distributed to attendees.

Fee: 600,000 yen (plus tax)

● Complete and return the sponsorship application form. Please note that application via any other method does not guarantee a place.
● Please also note that, depending on when the application is received by the conference administrator, the levels of sponsorship that can be chosen may be limited and the timing of displaying the sponsor logo and/or name on the conference website and promotional brochure may be delayed.
● If you wish to organize a Sponsor-led Breakout Session, state the desired time frame and conference venue for the session in the "Other requests" field of the sponsorship application form.
Japan Association for CFOs outsources administration of the CFO Forum Japan to CFO Headquarters, Inc.
For more information about sponsorship applications, please contact CFO Headquarters, Inc.

19th CFO Forum Japan 2019 Executive Committee Administration Office
CFO Headquarters, Inc. Marketing Department, Hiroshi Yaguchi or Naomi Nakayama
Tel:+81-3-3556-0931 / Fax: +81-3-3556-2320
e-mail:info@cfo.jp